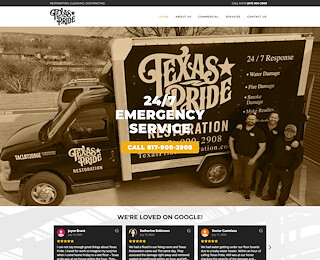 When you own a property, the preservation of its structure is a fundamental issue. This not only maintains its aesthetic conditions but also ensures the safety and well-being of its occupants. It is also necessary to keep the structure in perfect condition, to prevent it from losing its value.
Properties are subject to various threats, and water is not only the most common but one that can cause significant problems. For every owner of a house or building, it is necessary to understand this type of damage better and to know which is the wisest path to follow, to resolve them satisfactorily.
What is Water Damage?
Water damage is the most common in buildings and homes. Humidity can have several origins: structural, accidental, capillary, condensation, or filtration. They can cause simple damage, such as deterioration of masonry, or some more significant such as the loss of strength of load-bearing walls. In the latter case, the damage may be definitive, causing the structure to become uninhabitable.
Other types of water damage may occur fortuitously. A strong storm or rain or some damage to the pipes can cause floods and inconveniences. In any case, it is a serious matter, and the wisest thing is to have a professional contractor service to deal with the situation.
What Does the Contractor Do To Help You With Your Water Damage?
First, the professional will help remove excess water that may be affecting the safety of people and assets within the property. Next comes the crucial work in successful restoration: detecting the source of the problem. In many cases, when you notice a wall getting wet, the source of the water may be farther away than you think.
Once the original defect is found, the technician will proceed to repair the damage immediately. They will then conduct a thorough analysis of the extent of the condition of the structure, and together with you will design an action plan that will allow for the necessary restorations to return your property to its 100% condition.
How To Select The Ideal Contractor For Your Water Damage?
Keep in mind that this unforeseen can occur at any time. So, the best thing to do is to have a team of specialists who can give you immediate attention.
Also, you should verify that the company you select has the experience, equipment, and licenses necessary to provide you with a high-quality result. That's why the wisest thing is that if you don't already have an excellent contractor, you can trust for water damage in Arlington, do a little research and select one, just in case.
Take into account the recommendations of friends, or look for different options on the Internet. Among the factors to consider, observe the trajectory, the time that the contractor has in the industry, and the level of satisfaction that their previous clients have. Finally, interview those that seem most appropriate, and select the one you feel most comfortable with.
Trust The Best!
If you need excellent care for any water damage in Arlington, you count on the best. Texas Pride is more than a contractor. We are the best team of structural repair and restoration specialists, and we are here to serve you. We have the resources, knowledge, and equipment to provide you with an exceptional result. Contact us.
Water Damage Arlington
Related Posts
Floods and broken water pipes can leave you with plenty of damage. If your home suffered a flood, you need help from a professional. It is best to hire a company that specializes in water damage in Fort Worth. Our team of experts is ready to assist you and help you resolve the problem as quickly as possible.
What Should I Do If My House is Flooded?
If your house gets filled with water, you should be careful, because the electricity could make it unsafe. Take photos of the damage for your insurance company. Contact a company that handles water damage in Fort Worth. You should contact the insurance adjuster before you begin removing items from the dwelling. When it is safe to enter your home, remove furniture and place it in an area where you can assess the damage. You can salvage some items when they dry out while other things may be lost. Begin making a list of your damages and losses for the insurance adjuster.
Water Damage Removal and Restoration
The first thing we do is to inspect the damage and determine the best way to proceed. Our crews have the equipment to remove water from the building, so it begins to dry out. We may need to remove soaked carpeting and other items so the area will dry more quickly. Our team has experience with water removal and restoration, and we have the tools we need to make the job more efficient. We open windows to create air movement throughout the home. In some cases, high-powered fans help the drying process. Once the space is completely dry, we will take care of any restoration work.
How Soon Should I Call For Water Damage Services?
Do not wait long to call our company. When you have water damage in Fort Worth, it can cause serious harm to your home. Mold will start to multiply in wet and damp areas. The longer you wait for repair, the more difficult it will be to remediate the damage. Once mold starts to grow, it is hard to stop it from spreading. We can apply special products to eliminate mold and reduce growth. We may need to repair or replace some damaged areas. At Texas Pride Restoration, Cleaning and Contracting, we have experience working on all size jobs, large and small. Call us immediately when you notice water damage so we can begin remediation.
Contact Texas Pride Restoration
At Texas Pride, we offer high-quality, personalized restoration services in the Fort Worth area. We work with a team of professionals who have expertise in specific areas, such as water damage in Fort Worth. We have crews that will respond to your emergency very quickly. We oversee every project and communicate with you throughout any project. We pay close attention to detail and ensure that we handle each job with professionalism. We are happy to discuss your needs with you and provide you with an estimate for services. Call us today or contact us online to talk about your requirements.
When water floods your home it can be a disaster. You may lose valuable belongings and furniture that are ruined by water damage. Water damage can occur for various reasons such as a broken pipe, leak, flood or water backup. There is no time to waste if you have water damage. Call a company that specializes in water restoration in Fort Worth to resolve the problem.
What is Water Restoration in Fort Worth?
Water restoration is the process of mitigating the damage caused by a flood or leak in your home or office. Water restoration in Fort Worth is best accomplished by a professional team of experts. Water restoration includes removing excess water from the area and drying out the areas that were wet. This should be done as soon as possible after the water recedes to avoid the growth of mold.
What Do You Do If Your Home Has Water Damage?
The first thing to do if your home has a flood is to stop the water from flowing if possible. If you have a burst pipe or leak you should immediately turn off the water to that area of your home or at the water main. Turn off the circuit breaker to that area if it is safe to do so. Do not walk into deep water when the electricity could still be turned on. Take photos of the water and the damage for your insurance company. Remove large pieces of furniture and place them in an area where they can dry out and be assessed. Call a company that handles water restoration in Fort Worth to take care of the water damage.
What Does A Water Restoration Company Do?
A company that specializes in water restoration in Fort Worth will assess the damage, remove excess water and dry out the area. Experts have special equipment that vacuums or pumps water out of the room so that it can start to dry out. They also have devices that will help speed drying time which is particularly important because of the potential for mold. In some cases, carpeting and padding is ruined and must be removed to facilitate drying in the room. A complete evaluation can be done once the water has receded and the room is dry.
Can I Complete Water Restoration On My Own?
Whenever you have any amount of water in your home, even for a short period of time, it is best to contact a professional. Companies that specialize in this type of work have the expertise, training and equipment to handle water restoration regardless of the size of the problem. You can begin to remove large items of furniture or other things to get them out of the way. Place them on a blanket on your lawn or in your garage. The important thing to remember is to act quickly so you can mitigate the damages that were caused by the excess water in your home or business. Contact our team to come out and take care of the problem as soon as possible. 
Texas Pride Restoration
8179002908
900 Katy Rd, Unit 430, Fort Worth, TX 76244
View Larger Map