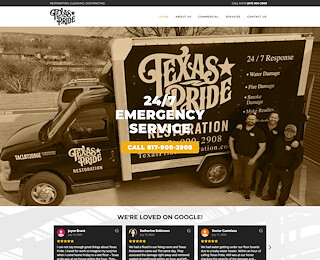 Believe it or not, water damage is one of the more common types of property damage that a homeowner will face. The thing is that many people either do not want to deal with it or they are not quite sure of the best way to tackle a water cleanup project. Water issues can stem from leaking or burst pipes, a hurricane, major rainstorm, or a local flood. When this happens, you could have significant damage to your furnishings, the foundation of your home, and the wall structure. This is when you need to think about hiring the pros to help with water cleanup in Dallas so that you can get results fast. 
How Do You Clean Up Water Damage?
Water damage can be very frustrating, but the faster that you act, the less damage there might be. Once you know that water is a problem, you need to work to soak up as much of the wetness as you can. After you contact a professional team for water cleanup in Dallas, they will also be able to give you some tips on the initial steps that you can take before they arrive. This may include making sure that your electricity is turned off in many areas of the home where it can become dangerous with the water infiltration. 
What Is The Best Way To Clean Up After A Flood? 
No homeowner wants to be faced with a flood, but there are times when you cannot control the onset of a hurricane or heavy rains that bring on the flooding. It is vital that you do an initial evaluation of your home with a walkthrough so that you can determine how much potential damage you have. A professional water remediation company should also be contacted so that they can put a plan of action in place to make sure that all of the excess water is removed so that the repair process can begin. 
There are countless benefits that come from hiring someone to help you with water cleanup in Dallas. For example, there could be a source of water within your home that is causing slow damage to your walls, flooring, and more. Water is known to get into places that you may not think about looking, but the professionals have leak detection methods that will help to get to the heart of the matter quickly.
When it comes to cleaning up the water, the professionals also have all of the products and heavy-duty equipment that is necessary to dry out your home in a timely fashion. Between water extraction methods and making sure that potential mold growth is addressed quickly, you will have the ability to save yourself a lot of time and extra costs by contacting the experts in the beginning. 
Texas Pride wants you to know that we have expert technicians that can come to your home to help with water damage, cleaning, claim repairs, and so much more. All you have to do is contact us, and we can send someone out as soon as possible to assess your needs and provide you with a detailed cost estimate for the work to be done.
Water Cleanup Dallas
Related Posts
Whether you get water in your home from a flood or a broken pipe, the results are devastating. Even just a few inches of water can cause severe damage to your home and your belongings. You may have insurance to cover your losses, and you need professional help for water removal in Dallas. At Texas Pride Restoration, we offer a wide variety of services to help you through this challenging situation.
How Can I Remove Flood Water In My Home?
Don't try to remove flood water by yourself. It can be dangerous and difficult. Before you call for professional water removal in Dallas, you need to make sure that the water stopped rising. If the water is due to a broken pipe, you should immediately turn off the water main to your home. Our crew of professionals has heavy-duty equipment that is designed to remove a great deal of water in a short period. If your carpeting is soaked, you will generally need to remove and dispose of it since it will be hard to dry. The goal is to get rid of as much water as possible to reduce the risk of mold.
Steps to Take After a Flood
There are several steps you should take after your home is flooded. Do not wade into the water in your home if the electricity is still active. You don't want to make the disaster worse. Instead, wait until the water recedes to go into your home. You should take photos of your insurance company before you remove any items. You may start to remove furniture and belongings and place them in a safe area where they will begin to dry out. Call a company that specializes in professional water removal in Dallas.
How Soon Should I Remove Water After A Flood?
It is essential to get professional assistance with water removal in Dallas as soon as possible following the flood. Mold can begin to grow in damp places in just a few days. Once mold begins to grow, it will multiply very quickly. The best thing to do is prevent mold from starting by getting as much moisture out of your home as possible. Once we remove excess water, we make sure that we get plenty of air circulation to dry your home.
In some cases we use powerful fans to dry the area. Water remediation includes removing mold and preventing further growth. If some areas of the walls or floors get damaged we will work to replace or repair them.
About Texas Pride Restoration
Texas Pride Restoration provides high-quality services including water removal in Dallas. We work with professional crews who have the equipment and expertise they need to handle any job, regardless of the size. We oversee all projects personally and pay attention to detail to make sure the job is done properly. Most importantly, we communicate with you directly to update the process and to answer your questions and concerns. Call Texas Pride Restoration when you need excellent water removal services.  
Water heaters are an essential part of our home. The appliance help in providing warm and hot water for our various domestic uses, including laundry, bathing, washing dishes, and so forth. Over time, the water heater can become damaged and begin to leak. The right thing to do is to repair your water heater immediately. At Texas Pride, we specialize in repairing water heater leaking in Dallas, TX. We also provide other services like water damage restoration, cleaning, and so forth. Our services are well detailed and carried out with a high level of professionalism.
What Are The Most Common Types Of Water Heaters?
We all know what water heaters do but many do not understand heating systems and the difference between the types available in the market. Considering that water heaters are not what we go out and buy every day, this is understandable. Being knowledgeable about water heating systems, however, can be helpful when you need to buy one. The most common types of water heaters include:
Conventional storage water heaters
Tankless Water heaters (on-demand or instantaneous)
Heat pump water heaters (hybrid water heater)
Solar powered water heaters
Condensing water heaters.
How Many Years Can A Water Heater Last?
The number of years a water heater can last will depend on different factors. The type of water heating system and the way it is built are important factors when it comes to durability. How the machine is used and maintained will also influence how long it will last. A well-built traditional tank-type water heater that is used and maintained properly can last between 8 and 12 years. Once your water heater has served for ten years, you should start thinking about replacing it.
What Are The Signs Of Damaged Water Heater?
It is not until your water heater breaks down completely before you realize that it is damaged. There are some signs that indicate that a water heater is not in its optimum shape and need some attention. The commonest of these signs include:
The water remaining cold after running the heater for minutes
Getting only lukewarm water even after running the water heater for a long while
Popping or rumbling noises coming from the water heater when it is running
Rusty, cloudy, or discolored water coming out from the water heater
The water having a metallic smell or taste
Leaking or faulty pressure relief valve
Leaking water tank.
How Much Does It Cost To Fix Your Leaking Water Heater?
The amount it will cost to fix your leaking heater will depend on a number of factors including the extent of damage that has been done. In some instances, some part of the water heater will have to be replaced. You can contact our team to get a repair quote.
Contact Us Today!
Do you need an expert to help repair your leaking water heater in Dallas? Contact us today at Texas Pride. Our qualified technicians have the required tools and experience to provide a fast and effective repair on your water heater. Within a short period, your heater will start serving you excellently again.
Texas Pride Restoration
8179002908
900 Katy Rd, Unit 430, Fort Worth, TX 76244
View Larger Map