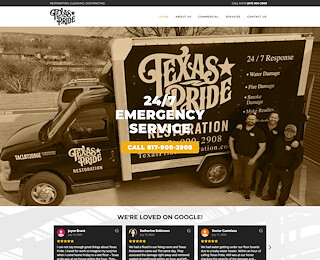 A leak or flood can cause huge damaged to the walls, ductwork, ceiling, and floors, of your Dallas TX home. However, if you act fast, you can still save and restore your home. At Texas Pride, we are dedicated to providing excellent and top class water damage restoration services. As a reputable Dallas flood damage restoration company, our experts can help with cleaning, drying, and restoring water-damaged areas in your Dallas home. No matter the extent of the flood or water damage, you can count on our professional team to help save your home.
How Do You Deal With Flood Damage?
One of the most devastating things you can ever experience, as a homeowner is flood damage. There are many causes of this flood damage. But, when it happens no matter the cause, how do you deal with it?
A lot of risks come with flood damage; the health of people that lives in the house may be at risks because the house is contaminated already. A lot of electrical damages might have occurred, which put you at risks as all the places are wet already. All these are potential risks you could face.
Safety First: When dealing with flood damage, the first step is usually making sure everyone is safe, figure out the source where the water is coming out from, try and stop it if you can. Also, make sure the power to the house is turned off from the main source. It is obvious water and electricity are not friends. But make sure you are not standing in water or have wet hands.
Call an Expert: Dealing with flood and its damages around your home is no easy task while people try to use the DIY process. However, it would be best if you call an expert. They are skilled and trained in this area, with a variety of equipment to use in solving the problem. To deal with flood damage properly, it involves a lot of process from Inspection, which involves accessing the house and the extent of damage, to the water removal using special types of equipment. Then they dry out, clean and sanitize your home and your belongings. Lastly, they start the house restoration process.
How Can We Prevent Flood Damage?
Flood damage can cause a lot of headaches as a result of the loss of property and valuable possessions. Many things can be done to reduce the impact of flood damage on our properties.
Here are some helpful tips you should consider to prevent future flood damage:
Always inspect and repair your roof regularly
Protect your HVAC system and appliances
Move your valuables and irreplaceable things to higher points; elevation can provide the best protection.
Prepare your house appliances for flooding.
Contact Us Today!
Flood damage is a serious issue that shouldn't be handled with levity. Contact us today at Texas Pride for your flood damage restoration needs. Our expert team are always available to respond to you promptly. We will provide a fast, efficient, and lasting solution to the recurring Dallas flood damage issues plaguing your home. A fantastic experience awaits you.
Related Posts
The average homeowners may spend between $1,020 and $4,100 on water damage restoration. Texas Pride has licensed professionals who can help you determine the cause and extent of Flood damage in Fort Worth. We know the factors that have an impact on the final bill and will do everything we can to keep the costs down. Call us quickly after flood damage.
How can I prevent water damage?
It is less expensive to take the necessary steps to prevent water damage than to repair the damage afterward. The most common place to find water damage is the basement. Leaks from floods, clogged gutters, and burst pipes can find their way into the basement.
Various tips can be used to prevent water damage in your basement. For starters, pitch your landscape so that water flows away from your house, including the basement. In addition, install downspout extensions and clean your gutter regularly to prevent blockage. Call Texas Pride to inspect your basement waterproofing and install flood damage prevention equipment including sump pumps and water alarms.
Inspection and insurance
We can also conduct an annual plumbing inspection of your pipes, fixtures, and appliances to diagnose small problems before they cause extensive damage. Call your insurance carrier to inquire about water damage cover. Most policies cover accidental damage, including overflowing washing machines and dishwashers. However, they may not cover water damage caused by natural phenomenon like flooding.
Can I save a flooded house?
Whether or not you can save a flooded house is determined by the extent of water damage. Therefore, call Texas Pride as soon as possible to come and minimize flood damage in your home. Floodwater can cause considerable damage, especially if the impact is significant, like a wave. Once the flood subsides, your house may remain waterlogged for quite some time.
Potential damage
When floodwater moves around your house, it causes hydrodynamic loads that can weaken your house's foundation. In addition, floodwater can carry lots of sand and silt into your home. Pumping water out of your basement may not be the best solution, especially if you are dumping the water into the soil surrounding your home.
Pumping and dumping the water outside can cause the soil around your home to saturate. Once the ground becomes saturated, it causes hydrostatic loads that can cause your walls and floors to collapse.
If your basement and foundation develop cracks as a result of floodwater damage, you will have to replace them altogether. Replacing walls and foundation is more difficult and costly than re-building the entire house again. In addition, if floodwater damage is worth half the value of your home, you will be legally obligated to tear down the structure.
A demolition is also an option, especially if the extent of the damage is significant. However, you will be required to obtain necessary permits before proceeding. The cost of the actual demolition may not be much, but you may spend a lot of money on disposing of the materials because floodwater usually carries lots of contaminants and chemicals. 
Contact Texas Pride immediately you encounter floodwater damage in Fort Worth, TX. We will help you minimize the extent of the damage and salvage your home.
Many factors are resulting from flooding. It can occur when a water line breaks in your home, heavy rain, or storm.
One perfect example is the recent Dallas flood, which caused thousands of dollars worth of damages in April 2019. The flood water damage affected numerous properties like homes, vehicles, parking garages, and so much more.
What are the Risks of Flood Damage?
Well, like many other water damages, water does not always stay the same when it's stagnant. Depending on the water source, clean or uncontaminated water can turn into grey water, and when left much longer, it can turn to black water, which can be hazardous to people and animals alike.
Contaminants in flood water can come from human feces and or a combination of animal waste containing harmful bacteria. Leptospirosis is an example of a disease that can be on the rise after a storm or hurricane that floods an area. This disease is caused by a bacterial infection that comes from infected animal urine and feces present in flood water, which enters the human body through open wounds and cuts.
Calling a professional such as Texas Pride can lessen your burden in restoration. Texas Pride is a company with high credibility in dealing with any water damage and can provide you immediate service.
Are There Any Other Types of Water Damage?
Water damage can be a result of heavy rain, quick melting of snow, or flood. It is the most dreaded problem of many homeowners as it can take a massive toll on their finances. The damage can be small or pretty extensive that would need experts to handle the repairs.
Three Types of Water Damage
Category 1- Clean water damage. The causes for this type of damage could be from a leaking water line or an overflowing tub or sink. Since the water is uncontaminated, the risk for sickness and disease to animals and people are low. Thus, simple water extraction and drying of all surfaces are all you need.  Water extraction and drying of all surfaces are pretty much the primary way of treating the area.
Category 2- Grey water. Grey water contains contaminants that can cause sickness and discomfort to anyone exposed to it. This water damage can come from washing machines, dishwasher discharge, or flood water.
Category 3- Black water. A glossy, unsanitary, mostly sewage based water, black water is highly contaminated that can cause disease to people and animals. Due to the level of contamination, a water damage restoration professional should handle it.
It is instinctive to check for damages right after a flood subsides. However, always put your safety first. Before stepping into the water, make sure you are appropriately dressed to protect yourself from debris and direct contact with contaminated water.
Also, make sure that all electrical and gas systems are shut off before entering the water. Having an electrician check on your electrical system can save you from possible electrocution. Call water damage professional like Texas Pride. Technicians from Texas Pride are highly trained to assess structures and help you restore your property.
Texas Pride Restoration
8179002908
900 Katy Rd, Unit 430, Fort Worth, TX 76244
View Larger Map